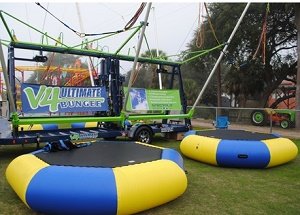 V-4 Ultimate Bungee Trampoline
Setup Area: 50' x 50'
Outlets: 1




With the V-4 Bungee Trampoline you feel like you're actually flying!
Riders can do straight vertical jumps off the specially designed inflatable trampolines or do tumble flips once their skill level increases.
Each rider (up to 4 at a time!) is attached to a bungee harness complete with bungee cords.
The ride operator mechanically lifts each rider to the start position.
The riders LOVE bouncing towards the SKY from the trampolines while attached to Bungee Cords.
The V-4 bungee trampoline is always THE most popular attraction at any event - for both Riders and Watchers!
The V-4 Bungee is perfect for School Events, Graduation Parties, Birthday Parties, Family Reunions, Block Parties, Summer Camps, Community Days, Chuch functions, Corporate events, or any other special occasion!
Rental Rates for the Bungee include trained attendants to set-up, operate, and break down when your event is over.
The V-4 Bungee requires a flat 50ft x 50ft area free from overhead obstructions such as tree branches or powerlines.